The term "gamelan" refers to an ensemble of traditional percussion-keyed instruments from Indonesia, including gongs, drums, metallophones, and bamboo flutes.
The music is taught by rote and committed directly to memory, allowing for a high degree of interaction between musicians. Our gamelan classes offer students ages 5–adult a unique opportunity to learn about another culture through music; no prior musical experience is necessary. Community Music School gamelan students perform together with Lawrence University gamelan students in at least one concert per year.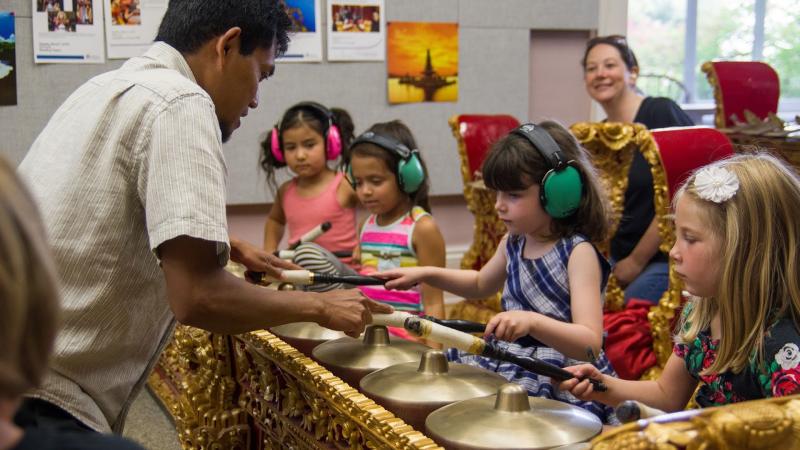 Children's Gamelan
---
beginner and intermediate levels
ages 5-14
Children will learn the basics of Balinese percussion music in a positive and cross-cultural environment. Skills emphasized are rhythmic coordination, memory, and musical and social awareness of fellow students. Director Dewa Ketut Alit Adnyana brings fifteen years of experience teaching children's ensembles. Caregivers are encouraged to stay to assist their children as needed. For new members, one caregiver should plan to stay (and is encouraged to play!) for the duration of the rehearsal.
NEW IN FALL 2023
Intermediate level students will stay for an additional 30 minutes of focused time to hone their advancing skills.
Two years of gamelan experience, or instructor permission, is required to register for the intermediate level class.
Fall 2023 - 8 Week Session
September 17- November 5: Sundays, 11:30 A.M.-12:30 P.M.
(beginners leave at noon; intermediates remain for the full hour)
Cost: $86 for Beginners, $129 for Intermediates
Instructor: I Dewa Ketut Alit Adnyana
Location: Mursell House, Lawrence University, 422 E. Washington St, Appleton
Gamelan Sekar Kemuda
---
Ages 14-adult
The inter-generational gamelan ensemble is based on the multi-generational village gamelan model in Bali. The name Gamelan Sekar Kemuda means "Gamelan of the Lotus Flower" and symbolizes the symmetrical beauty of the lotus flower created when members of a community come together with one, shared goal of making music. The ensemble meets weekly each semester to explore and experience this beautiful form of music making
Fall 2023 - 12 Week Session